Vocabulary Time!
Secondary School List #3
reactionary (adj)
Meaning: extremely conservative and oppose reform or change.
Usage: someone reacting (in horror) to what others consider to be progress.
Example: My grandma is described as reactionary because she refuses to use modern technology like mobile phones.
Example: The young politician believes some of the government's reactionary policies should be changed.
Example: The reactionary measures have failed to stimulate the economy so the government needs to find a new plan.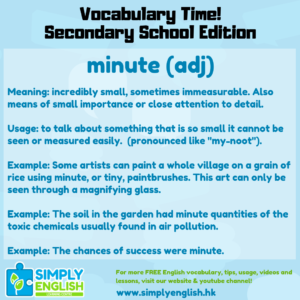 minute (adj)
Meaning: incredibly small, sometimes immeasurable. Also means of small importance or close attention to detail.
Usage: to talk about something that is so small it cannot be seen or measured easily.  (pronounced like "my-noot").
Example: Some artists can paint a whole village on a grain of rice using minute, or tiny, paintbrushes. This art can only be seen through a magnifying glass.
Example: The soil in the garden had minute quantities of the toxic chemicals usually found in air pollution.
Example: The chances of success were minute.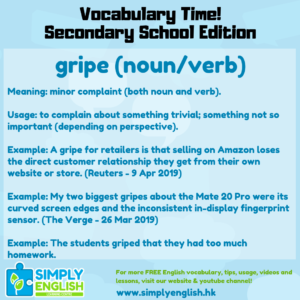 gripe (noun/verb)
Meaning: minor complaint (both noun and verb).
Usage: to complain about something trivial; something not so important (depending on perspective).
Example: A gripe for retailers is that selling on Amazon loses the direct customer relationship they get from their own website or store. (Reuters – 9 Apr 2019)
Example: My two biggest gripes about the Mate 20 Pro were its curved screen edges and the inconsistent in-display fingerprint sensor. (The Verge – 26 Mar 2019)
Example: The students griped that they had too much homework.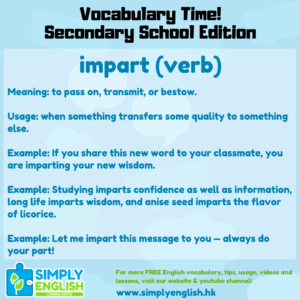 impart (verb)
Meaning: to pass on, transmit, or bestow.
Usage: when something transfers some quality to something else.
Example: If you share this new word to your classmate, you are imparting your new wisdom.
Example: Studying imparts confidence as well as information, long life imparts wisdom, and anise seed imparts the flavor of licorice.
Example: Let me impart this message to you — always do your part!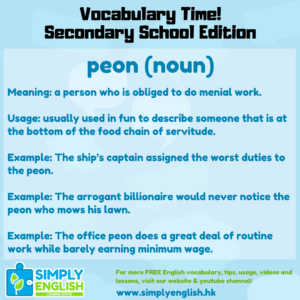 peon (noun)
Meaning: a person who is obliged to do menial work.
Usage: usually used in fun to describe someone that is at the bottom of the food chain of servitude.
Example: The ship's captain assigned the worst duties to the peon.
Example: The arrogant billionaire would never notice the peon who mows his lawn.
Example: The office peon does a great deal of routine work while barely earning minimum wage.